The impact of COVID-19 on the Business Registries
In 2021, our Members participated in a study on the impact of the COVID-19 pandemic on Business Registries.
This is an international initiative that was launched in collaboration with our sister associations, the Corporate Registers Forum (CRF), the International Association of Commercial Administrators (IACA) and the Association of Registers of Latin America and the Caribbean (ASORLAC).
Click on the below links to access the individual case studies from our Members.
A copy of the original questionnaire and guidelines is also available here.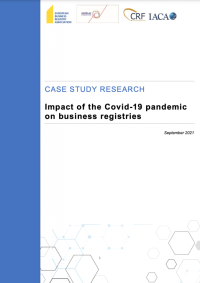 Click image to read full report
Our sister associations are setting up similar pages and you can access their case studies via the following links.