Our Members have participated in a study on the impact of the COVID-19 pandemic on Business Registries.
This is an international initiative that we have launched in collaboration with our sister associations, the Corporate Registers Forum (CRF), the International Association of Commercial Administrators (IACA) and the Association of Registers of Latin America and the Caribbean (ASORLAC).
Click on the below links to access the individual case studies from our Members.
A copy of the original questionnaire and guidelines is also available here.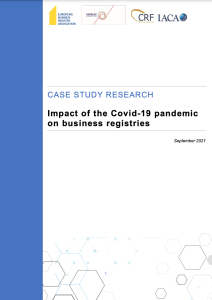 FPS (MINISTRY) OF ECONOMY / BANQUE-CARREFOUR DES ENTREPRISES – KRUISPUNTBANK VAN ONDERNEMING

FEDERATION OF BOSNIA AND HERZEGOVINA
JURISDICTION REPUBLIC OF SRPSKA

CENTRE OF REGISTERS AND INFORMATION SYSTEMS

FINNISH PATENT AND REGISTRATION OFFICE (PRH)

CONSEIL NATIONAL DES GREFFIERS DES TRIBUNAUX DE COMMERCE

MINISTRY OF JUSTICE OF NORTH RHINE-WESTPHALIA


UNIONCAMERE L'UNIONE ITALIANA DELLECAMERE DI COMMERCIO, INDUSTRIA, ARTIGIANATO E AGRICOLTURA

JERSEY FINANCIAL SERVICES COMMISSION

KOSOVO BUSINESS REGISTRATION AGENCY – KBRA


CENTRAL REGISTER OF THE REPUBLIC OF MACEDONIA (CRM)

THE NETHERLANDS CHAMBER OF COMMERCE

THE BRØNNØYSUND REGISTER CENTRE

INSTITUTO DOS REGISTOS E DO NOTARIADO (IRN)

SERBIAN BUSINESS REGISTERS AGENCY (SBRA)

AGENCY OF THE REPUBLIC OF SLOVENIA FOR PUBLIC LEGAL RECORDS AND RELATED SERVICES (AJPES)

COLEGIO DE REGISTRADORES DE LA PROPIEDAD,MERCANTILES Y DE BIENES MUEBLES DE ESPAÑA

THE SWEDISH COMPANIES REGISTRATION OFFICE

Our sister associations are setting up similar pages and you can access their case studies via the following links.